Wow, the end of the week just sort of went by there didn't it? Evidently I was busier than I thought I was. I worked at the hospital on Friday and Saturday, definitely not the highlight of my week, fit some knitting in there when I could and the hubby and I took the minions down to my in-law's lake house today to enjoy the unusual warm up that we are experiencing. I guess tomorrow is supposed to be nice as well which is good seeing how most areas have Beggar's Night tomorrow. I am kind of a slacker-mom this year where the minions' costumes are concerned. Little miss will go in her candy corn socks and aside from an orange shirt, that's pretty much her costume. Although, at 4mo I don't really think she'll mind too much. Speaking of the candy corn socks, I took some photos as I knit in the car en route to the lake house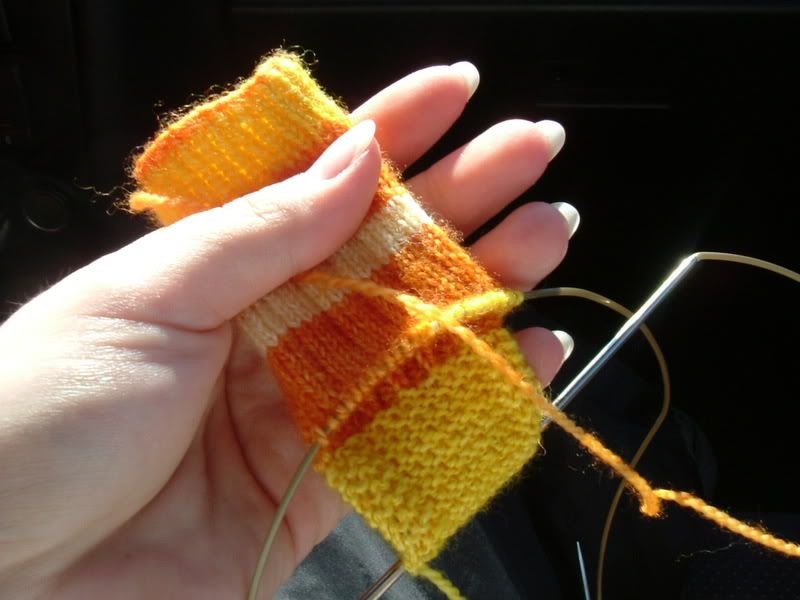 is there anything cuter than a little mini heel flap?
I was totally loving the way the yarn worked itself out on this sock -- it turned from yellow to orange right at the spot where I went to turn the heel
And the completed heel. I know... way too excited over the colors, but that's okay. I will give you some pictures of little miss in her handknit socks tomorrow. In other knitting news, I am one little square away from finishing little miss' blocks. I can't decide if I just want to stuff and sew or if I want to try and find some little bell or something to throw inside so she could enjoy some sounds... And I started in on my Samhain shawl, although I don't think I will post any in-progress shots, I'll just wait until I finish. At one point I thought about alternating the rows between the different ends of the two skeins to make a more fluid shawl, but as I was winding the skeins the individual sections of yarn are so different I thought I would just knit it straight so each one can stand out by itself while blending in for a total effect. I was working on the shawl in the car on the way home and was thinking about the history of the holiday and what-have-you and I started to look out the window and was really aware of the changing of the seasons/parts of the year. I know I have been writing about how I love fall... but I was really struck by the changes that have happened in the area lately.
During our return trip the hubby and I took a little mini detour to one of the small towns found in Southern Iowa. For those us who enjoy small town charms and the little quirks associated with them, here is some eye candy. Argh!!! Seriously, why does blogger do this to me? I can put on a few pictures and then it just doesn't let me put anymore on the post! I'll try to put them in a separate post here in a little while. Sorry!