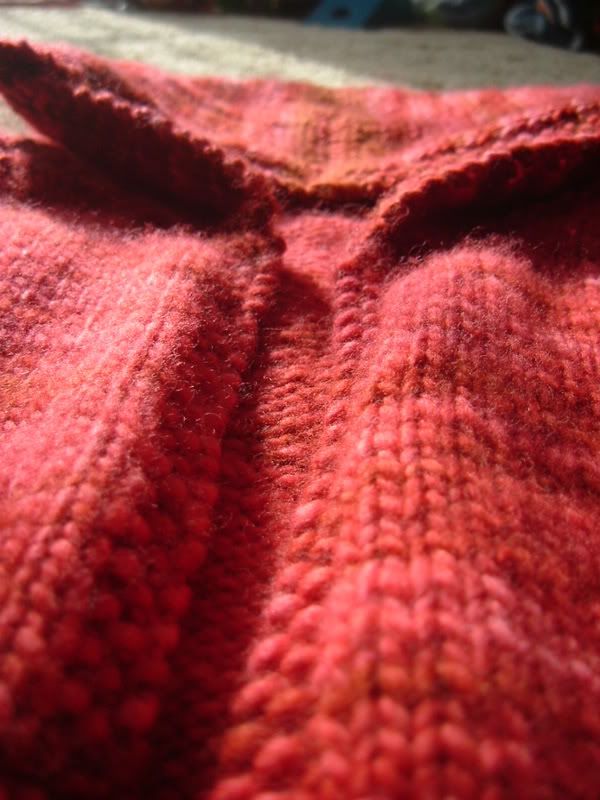 Didn't think I would actually finish this did ya? I finished the hood, Kitchenered it up, and wove in the ends last night around 1am. This morning, between tantrums and what not, I finished sewing the sleeves and naturally little miss is asleep so I will try it on later.
Project specs
:
Yarn
: Malabrigo sealing wax colorway 2 full skeins and a wee bit of the third (4 rows on hood and seaming). Lets talk for a moment about the dye lot shall we? 3 skeins, all from the same dye lot, noticeable differences!!! The first skein was nice, subtle, flowed gently... the second had four distinct colors present which lent itself to the striping on the sleeves and hood. The third is pretty much a solid in the reddish-brown color which kind of stinks because I was planning on making a pair of fingerless gloves for myself with the remainder and I was hoping for a little more variation in color. Oh well. The yarn is
still
fabulous. Go try some, you wont be sorry!
Needles
: US 8 32" Addi Turbo
Pattern
:
Daisy
from
Knitty
What I learned
: well, this is my first actual sweater/garment and I don't think it turned out too badly :) Now I know a little more about sweater shaping... I am thinking that I am a tad rusty on my finishing techniques though --I actually had to refresh my memory on the mattress stitch. I am feeling much shame :) I know what you're thinking:
maybe if she actually finished projects in a more timely fashion she would get more practice at it
. It's okay, I was thinking the same thing as I was sewing it up :)
Later today I will give her a soak and block her out for pictures early next week. Yippee!!!!!! Of course, there is still the issue of buttons. I've got a little time to work that out.
In non-knitting news (yes it does exist), Christmas came early to our household yet again. Our vacuum blew up. again. Last time we paid to fix it and it didn't last long enough to warrant another fix so the hubby went out (on his birthday) and bought a vacuum. With two minions not having a working vacuum isn't an option. Whether or not it is a Christmas gift for me... Lets just say the hubby is taking great pride in telling his buddies that he got his wife a vacuum for Christmas and lived to tell the tale. Pick your battles. Incidentally, I do have another little hubby share for you. The first Christmas we had that we were actually living together he got me a cookbook. Yup, a cookbook. It gets better. The card that came with it had the words "Now you can domesticate yourself" written on it. He was joking of course as the hubby is a bit of a smarta**. It better have been a joke... :) Originally I was going to insert a picture of said hubby but Blogger isn't allowing it at the moment, so he will get a special post in a little while. Sounds like little miss is up and little man should be close to going down. Gotta love it. Happy knitting!