It has been a few days so I thought I would give you a little minion fix. Little miss had her first encounter with the
Exersaucer
and loved it.
We discovered that we can give the raspberries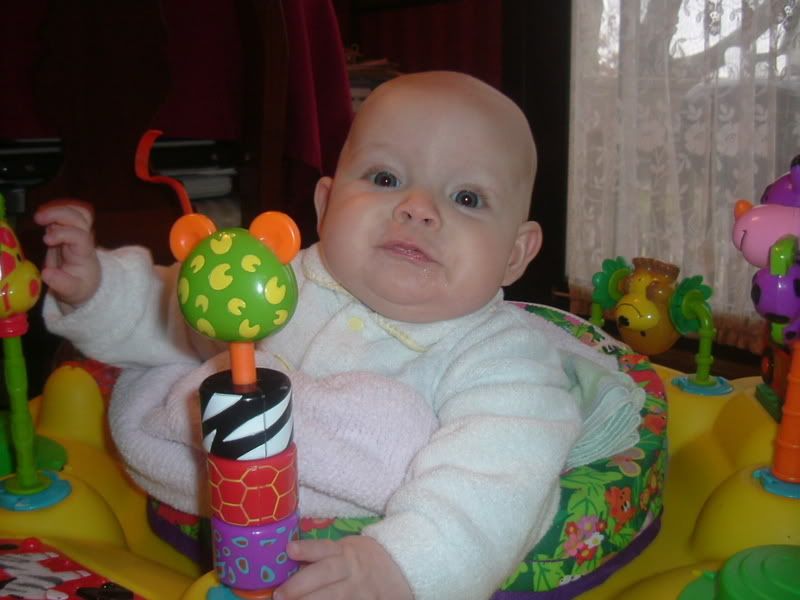 Just wanted to say hello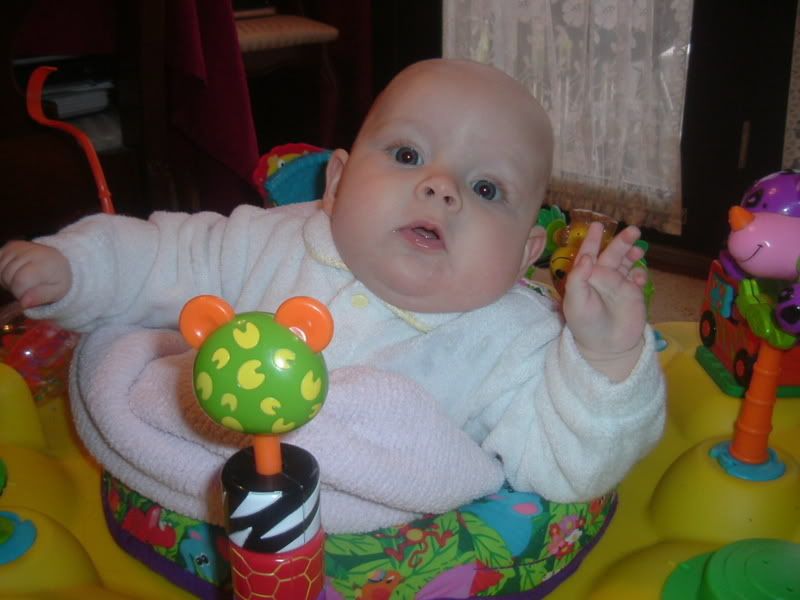 The other minion is doing well. I don't have any fun new pictures of him to post. We had an appointment with his ophthalmologist the other day and so far so good (i.e. it's still not perfect but he can use both eyes together and as long as they don't worsen there wont be another surgery in the near future... but we may still need one down the road for some tweaking...). We go back in 4 months. Another plus of the visit is that we no longer have to worry about patching (for now anyway) which is good because it was going so well -- ha ha.
In knitting news, you may have noticed that I have joined yet another KAL. I am sooo excited about this one because, as you may know, I intended on making myself a pair of Latvian or Estonian mittens in the new year. Talk about perfect timing! The KAL starts today but I will not start my projects until after the holiday knitting is complete. I must warn you though, I will be honest and fess up to the fact that I have not done stranded work yet but am looking forward to the challenge. It could get ugly and will probably get a little messy. At any rate I will be able to provide some comic relief to those of you seasoned in stranding. I haven't decided on a pattern yet (even though I pore over all of my books each night marveling at the beauty of the designs). I will go ahead and start with a pair of mittens and then hopefully a hat. I have been eyeballing the
Bea Ellis
patterns for some time now and have noticed a few bloggers out there are going the "Kristen" route, which
is
lovely... I, however, am still partial to the "Ufserud". For those interested, you can take a peak at last KAL's finished objects
here
. Hee hee, I am itching to get started on these. Well, must go. Almost there on the hoodie and then onto finishing the socks. Happy knitting!