I thought I would post this picture as it sort of sums up the day.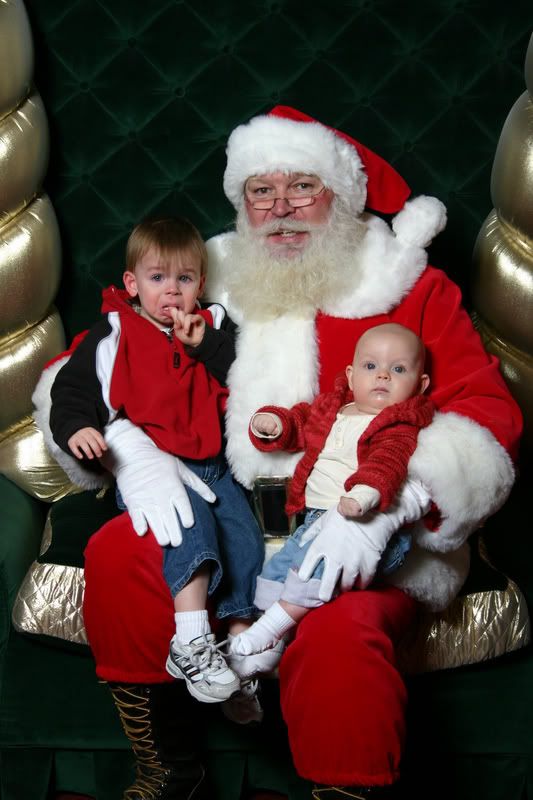 I thought it would be a good idea to experience a little holiday joy and since Mom had the day off why not go visit Santa? Called Grandpa H so he could see the minions, little man rode the train and thought it was pretty swell, got a few new pattern ideas/inspirations via window shopping while we waited for Santa's lunch break to end... Not a bad start (especially when I got a little knitting done while in the doctor's waiting room this morning). You can see how the rest of the experience went :)
To top off the day, mom and I load up the kids - mom takes the bags out of the stroller while I am buckling little man into his carseat, I then go and fold up the double stroller and throw it in the back of the Pathfinder. Go to reverse. What did I just run over? That would be the camera. That's right folks. Pathfinder vs. Camera. Guess who won. Somehow the camera got overlooked during the unloading/loading by both Mom and myself and it is now no more. Went to the camera shop, picked up a new one (haven't decided it we will keep it or not so I can't fiddle with it yet) which I will refer to as "the wheel" since it will be taking the place of the spinning wheel that I was going to get next year... On the plus side, at least I ran over it otherwise I would be out the pictures that were still on the card -- the card that still works, sort of. Sigh.
AND.... I cut my tongue on a dam* Tootsie Pop. I hate that. Although, did you notice what little miss was wearing?