Look what the mailman brought me today!
If only I could keep it -- I and a few members of a local spinning/knitting guild are compiling some knitting and crochet supplies to send over to The Children's House in in Syktyvkar, Russia for the special needs children and Deb from
Fearless Fibers
was kind enough to donate some yarn (and some needles) to the cause. Yeah Deb! I also got an e-mail from Dani at
Sunshine Yarns
and she too said that she would donate a skein. That said, if anyone else who should stumble across my blog would like to donate please let me now and I will make sure it gets sent!
In other knitting news, I decided to revisit the green sock. Remember the green sock?
Made it a little farther on the leg last night and I must say, although close, these two are definitely fraternal. The stripes are similar, but the yarn from the second sock didn't seem to take the dye as well as the other. Either way, I got the go ahead from the SIL so happy knitting for me!
As for the minions... in an effort to girlify little miss, my mother went and got her a few pink outfits. I am afraid that this one might be a single-use though as the short sleeves of the main portion of the outfit dig into little miss' meaty guns. But doesn't she look cute?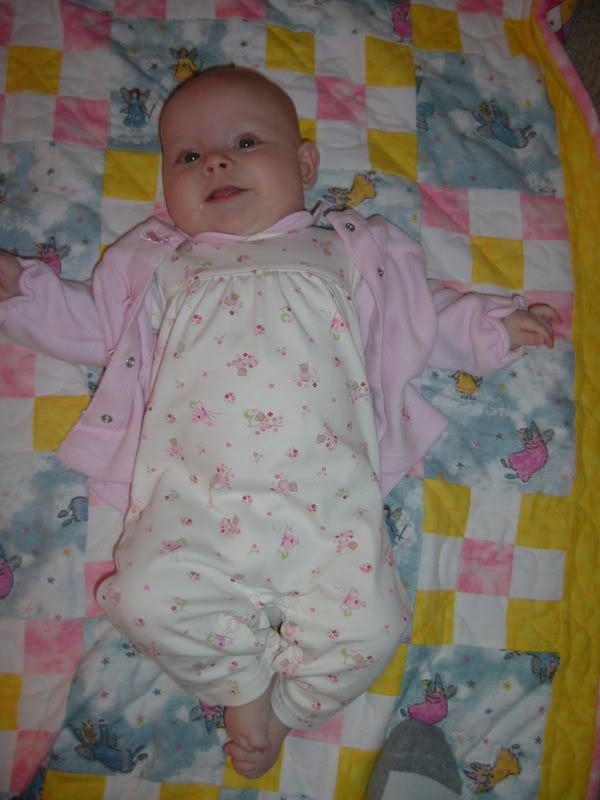 Little man wanted to get in on the photo shoot and right when I went to take the picture, dead batteries. I hate that. And as usual, the moment passed because when I returned (only seconds later) I found this:
and this
and this
Fortunately for me (ha ha) they've been like this ever since. Granted they were both asleep for about 20 minutes (hence this quick post) but little miss is now a calling. Have a great day! I am planning on getting the beginnings of my Hermione mittens on the needles tonight so hopefully... but we all know how that goes by now don't we? :)