It ends up that what I originally thought was the start of a virus was in fact Strep. Fabulous. Needless to say I didn't work this weekend, got myself some antibiotics and am now starting to feel a little better. I have this thing about knitting for others while I am sick so instead I poured over various books and patterns waiting for my energy to return. In the process of pattern-gazing I had a thought -- I have joined the Red Sweater KAL and decided that I will make little miss a RED hoodie instead of going with the yarn that I had previously started with. This way I will have my hoodie, she will be warmed by a handknit and other people might actually stop mistaking her for a boy. Honestly, does this look like a boy to you?
We were a little excited by the new toys. Now I have to decide on some yarn. I tend to go for yarn that has a little variegation or some depth to them, I have heard good things about
Malabrigo
but have yet to knit with it... Any thoughts? I have also added a few more repeats on the Irish Hiking Scarf, but nothing worthy of an update photo. Maybe tomorrow I will get a little bit of knitting done. And laundry, definitely have to do some laundry...
Little man has been a little under the weather too I think -- little low grade fever, not quite himself...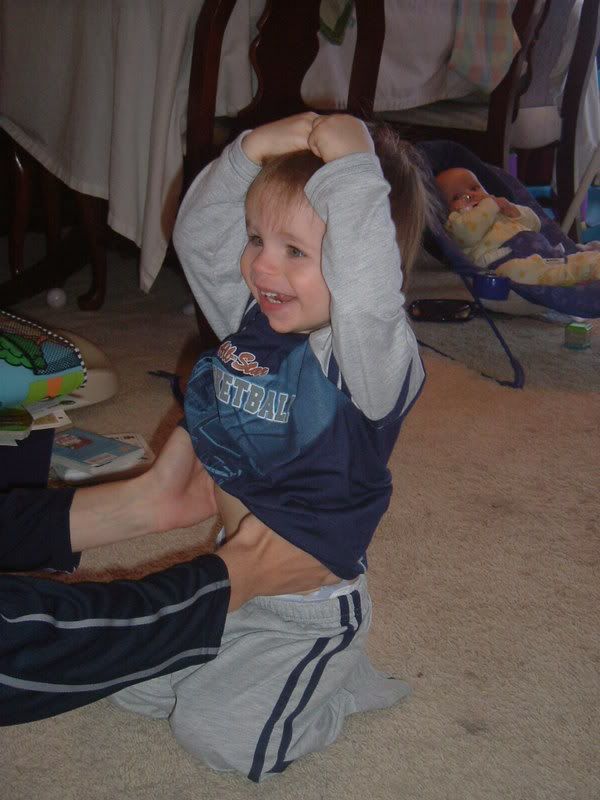 So far his throat hasn't seemed to bother him which is good. We may even go outside for a little while tomorrow -- it's supposed to hit 60 degrees! So much for fall, bring on the winter chill huh? That reminds me, have any of you noticed that strange phenomena that occurs sometime in the summer where at least 80-85% of the population experience some loss of memory; more specifically how to drive in the snow? I've noticed that winter usually comes around once every year and with it comes snow and ice. Somehow people who have lived here
all their lives
forget how to handle their vehicle in adverse conditions. Boggles the mind. At least it gives us something to look forward to!