Just when I thought my scarf knitting mojo had returned I was hit hard by a virus of some sort this afternoon. Just in time for work this weekend. Hooray! I decided to revisit the cabled scarf this morning though and completed a few inches before all of my energy left me. As usual, sorry about the lighting. Incidently, if the hubby's grandmother (J) is reading this, you can look at your own risk - if you want it to be a surprise, don't click on the link... if you want to give me feedback, by all means.
Cabled scarf photo
I know I said I was going to abandon this particular pattern for the time being but I am not one to admit defeat so easily. I decided to knit up a couple of pattern repeats to get a better idea of how it will look in this yarn. Obviously the scarf is not blocked but when I stretch it out a tad it does look a little better.
In minion-related news, little man is working on perfecting his jump. It is quite a sight to behold as he puts his all into it. Sometimes he even manages to grab about an inch of air. Here's a shot of him after he raided the hubby's sweater pile.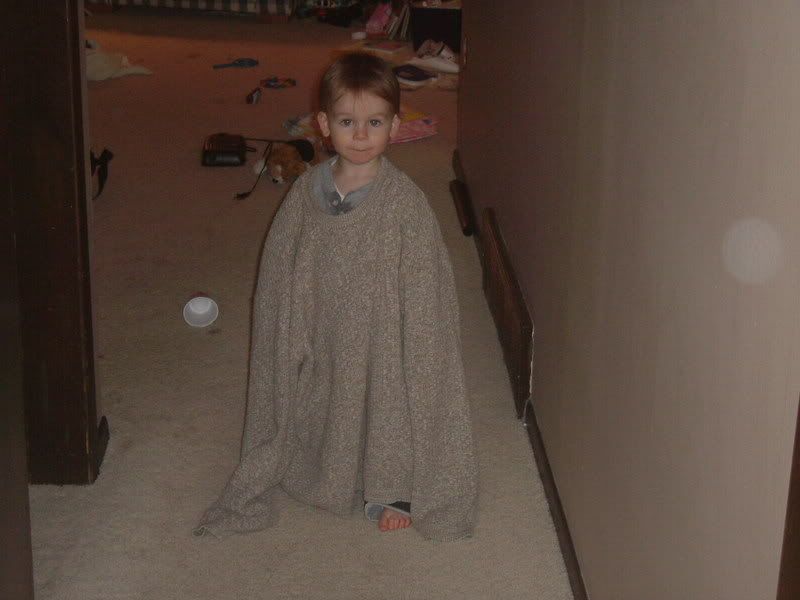 I will try to put up a pic of little miss tomorrow. She is talking up a storm!