Sorry guys, 2 days with no post! I wish I could say that I was a busy little bee and had more to show you than a few more pattern repeats on the Irish Hiking Scarf and the start of the second green sock. I must admit though, I am not overly fond of how this second sock is turning out.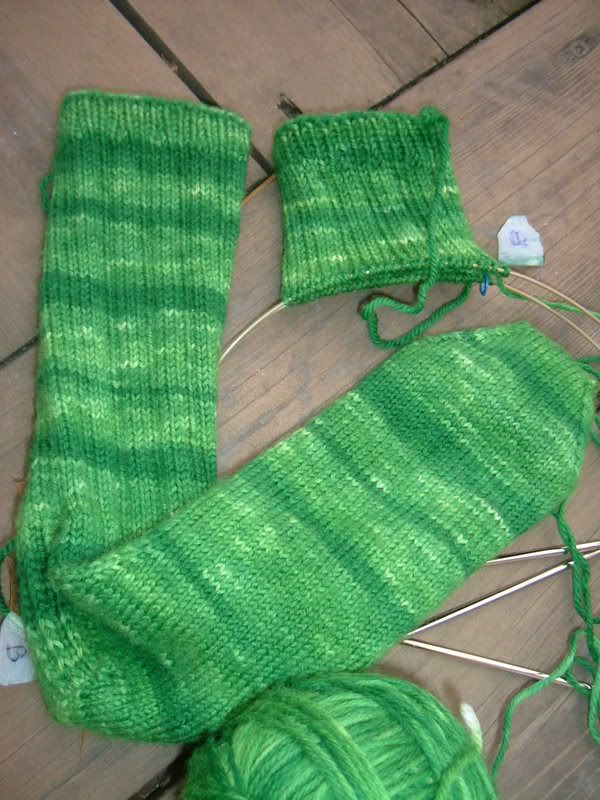 After 4 attempts (the hubby can vouch for this) I finally got the cast on to match up EXACTLY. I was rather pleased because, as these socks are not for me, I thought I should pay more attention so the stripes line up (I don't really give a hoot if it is something for myself). Same number of sts, same gauge (we all know how important that is!) different pattern/yarn-happenings. It's close, but not quite the same. Hopefully the stripes will start to mirror a little better as the sock progresses. Overall, I am not too excited about the yarn anyway and if she is game, the recipient will get more socks in the future. One of the hazards of not dyeing your own yarn... It has been so gray and dreary here lately. The leaves are starting to vanish
This is a midmorning shot and this is the brightest it's been! I must admit the weather of late has mirrored my mood. Not much was accomplished yesterday, I began the second sock when the kids were actually sleeping at the same time, paid some bills (always a highlight), did some of the little odd things around the house that seem to take up your time but you don't actually have anything to show for it kinds of things. I also missed out on a used Ashford Joy. Again. It's right there and just sort of slips through the fingers. Evidently now is not the time for me to start spinning. Yup, I'm a bit of a downer right now. Although, I have a sure-fire mood brightener heading my way from across the pond. That's right folks, a bit of Samhain is coming to me from Jo. I can't wait to get my fingers on it's firery goodness and hopefully turn it into something as brilliant as it's namesake.
I was going to give you a bit of minion magic, but it seems as though Blogger has other ideas. I will post some shots of my little MacGyver and little miss later (once they let me upload some photos - I even tried to do a new post just for them... it's a no go right now).