First of all, let me say THANK YOU!!! to all of those who sent well wishes for little miss' first birthday. I'm pretty sure she had a good time :)
Things calmed down a bit after enduring a 2 day sugar high. We had cupcakes,
and birthday cake,
and lots of presents.
Although the box that the present came in is always the best isn't it?
It's been kind of a busy month and I haven't spent much of it at the computer. We had a 4
th
of July BBQ at my uncle J's -- of course I forgot my camera -- and we went to
Good Guys
where I was able to get my hot rod fix.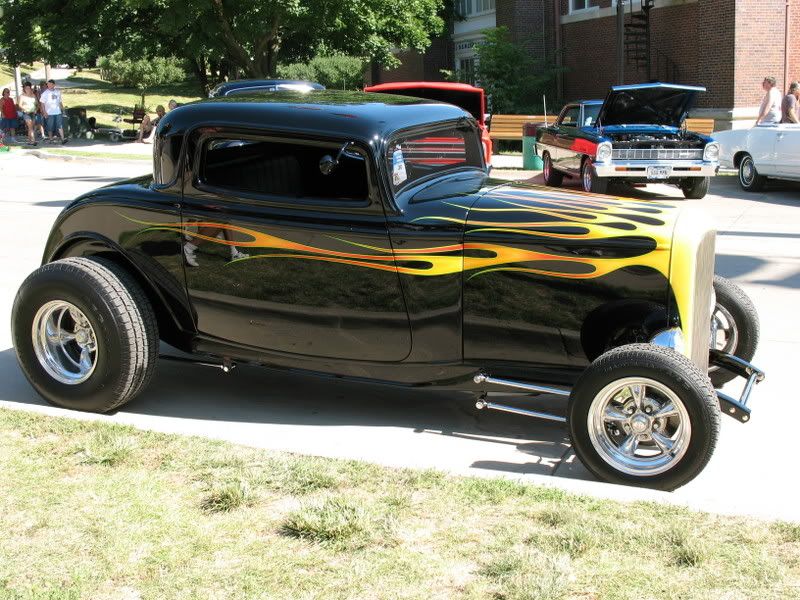 The evening that I went we did a little drive through of the grounds but since it was around dinnertime a lot of the people were heading out. It didn't really matter though, I had a nice little outing.
The family and I headed up north today for a family reunion. It was the first time that the hubby had been to the farm and I think I've mentioned this before, but I have a thing for old buildings so I took along the camera and was able to snap a few shots of a couple of my family's older structures.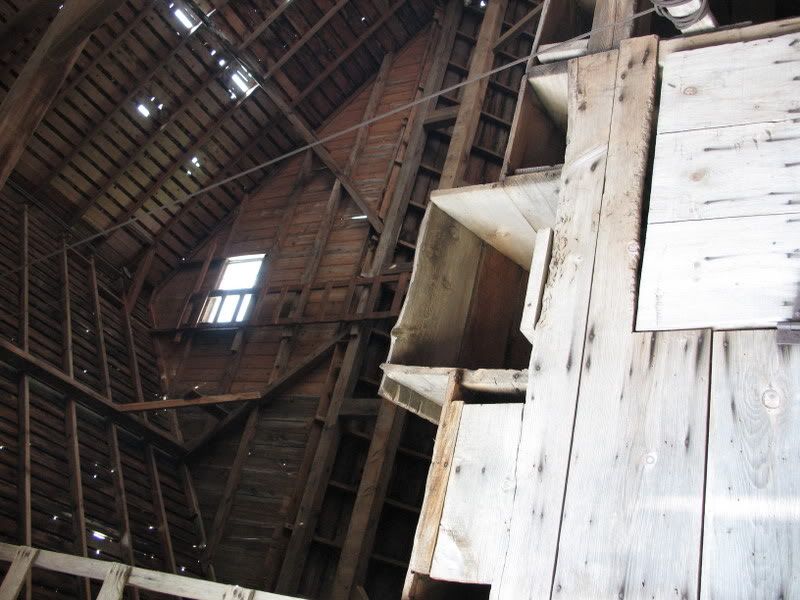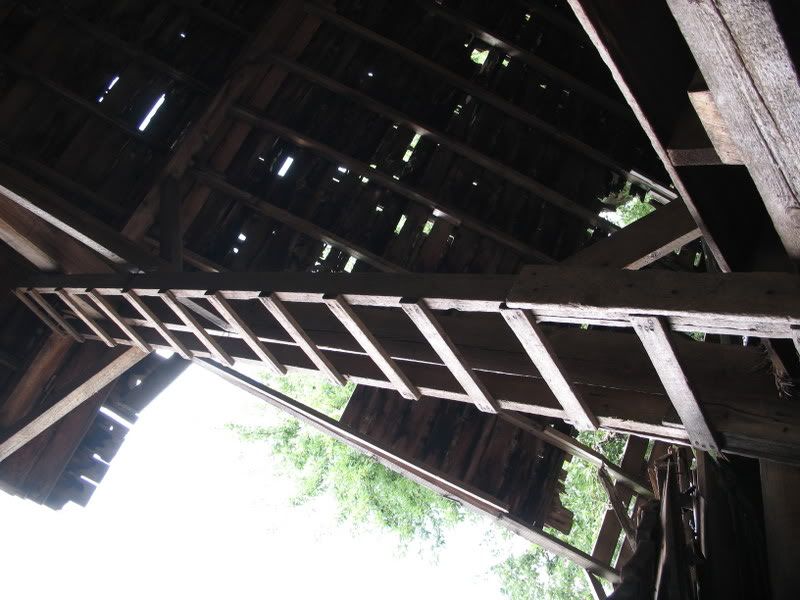 I was standing on one of the ladders in this barn
while trying to get a shot when R says to me, "You know, there was a murderer living in that loft a while back now.". I'm guessing he was going for shock value but I was rather curious seeing how I have been going up here for just shy of 3 decades now and this was the first time I had heard anything about it. Evidently
whe
n my Grandpa L was a boy, a guy who had killed a couple of people had hid in the barn (to their surprise) and ended up killing himself. Grandpa L's dad found his body near the barn. The story was in the local papers....
Incidentally
Grandma D, could you pass along that little man still brings out the potholders and crocheted
washrags
and tells me that "
Bev
made these."? Thanks!
I didn't really do much knitting this past month either! Between family outings and my own disgust at my list of Things To Do -- I've been tackling some of those
little
projects around the house that seem to take up most of the day and at the end you don't really have anything to show for it (e.g. cleaning out closets...) -- but I did manage to continue work on the mini
Clapotis
which is being made out of
Fearless Fibers yarn
.
It's kind of slow going though since I don't have an intended recipient for it yet. I also made a quick little
Norwegian Hat
for little miss. I haven't been able to get a good shot of her in it yet,
but I'm sure I'll succeed in the end. And, in honor of the
Harry Potter
releases and in the spirit of my recent stash busting exercises, I made a pair of
Gryffindor
clogs... although I haven't yet felted them.
My parents went on vacation recently and came across a woman "making something out of beads"
as my father put it. After a little investigation he found out that she was a knitter and was making row counters. If you are interested in some, let me know and I can give you her information.
It's been rather difficult to get a decent shot of little man.
Usually they end up looking something like this
Little man would like everyone to know that he is a "big boy now". Little miss continues to cruise around at high speed and is crawling up on furniture. It's been a fun couple of weeks though, 5 new teeth and one more on the way! She also has a lovely singing voice and doesn't seem to mind the tractor. Thought you would like to know :)
We also really dig ice cream.
2 peas in a pod!