I am so happy that Spring is here. It just gets to feeling so stagnant towards the end of winter doesn't it? We've had a nice little warm up, opened the windows, played outside, and I have begun to feel the urge to start my annual spring cleaning. This not only involves a little elbow grease, but includes going through closets, stuff we don't use and/or wear, and my
WIPs
. I tried to keep my
WIPs
to a manageable level, I really did, but it didn't work out so well. Although, now it's like Christmas all over again because I get to "rediscover" all of my needles as I finish a project :) I tell you, knitting everyday on this or that and never actually finishing anything is quite bothersome. I decided that I needed to rectify the situation and got busy. I give you, the
Noro
Multidirectional
Scarf/hat combo.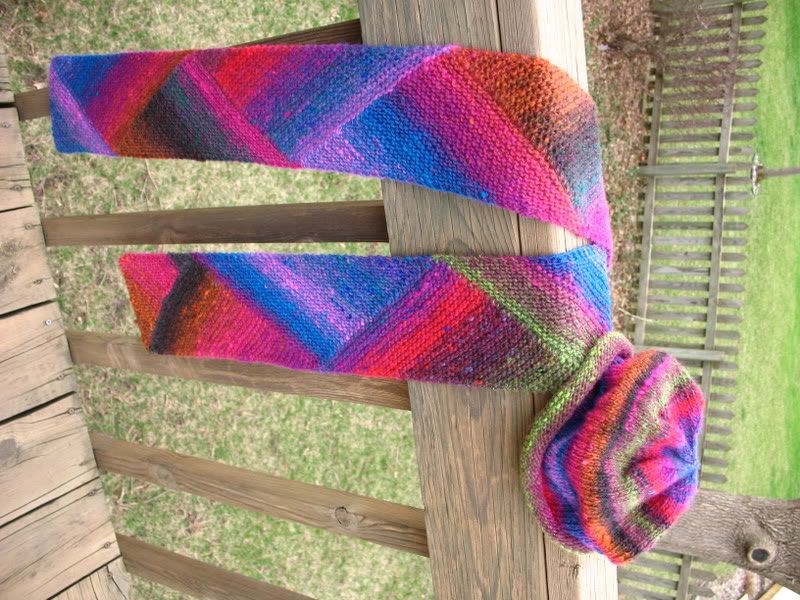 I finished the hat forever ago it seems and I finally finished the scarf on a day that hit 80 degrees Fahrenheit. Perfect weather for wool!
I also managed to finish the first
Taos
Take 2 (
TT
2)sock.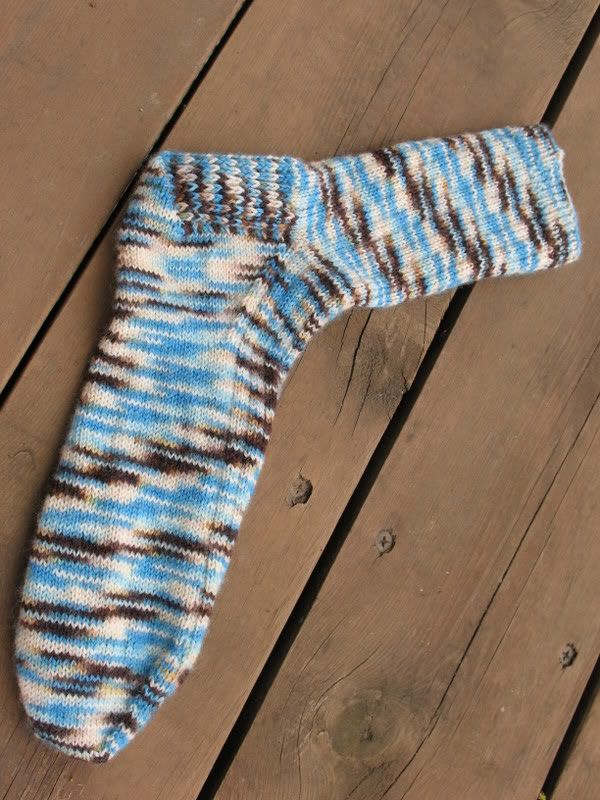 My
SIL
A (I have 2) liked the pair that I
originally
made my MIL and wanted a pair of her own. I will start on the second
TT
2 sock after I finish up the second footie for grandma which I am hoping to give her this weekend. Totally doable. Another project that I had started back in December was a pair of legwarmers for little miss. They just kept getting put aside until now. Since the weather had warmed up to where I wasn't sure if she would get any wear out of them until later this year I modified my
original
plan to make them a little bigger so she could use them this fall. Lucky for me the past few days have been in the 40's.
Little man got a hold of the first one and didn't really want to give it back. Fortunately he decided to share when I finished the second.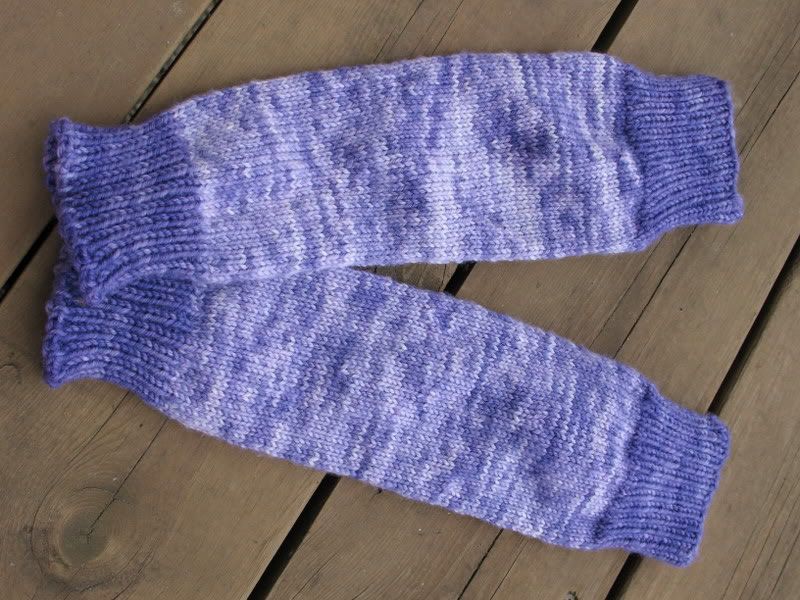 Little miss was able to sport them today.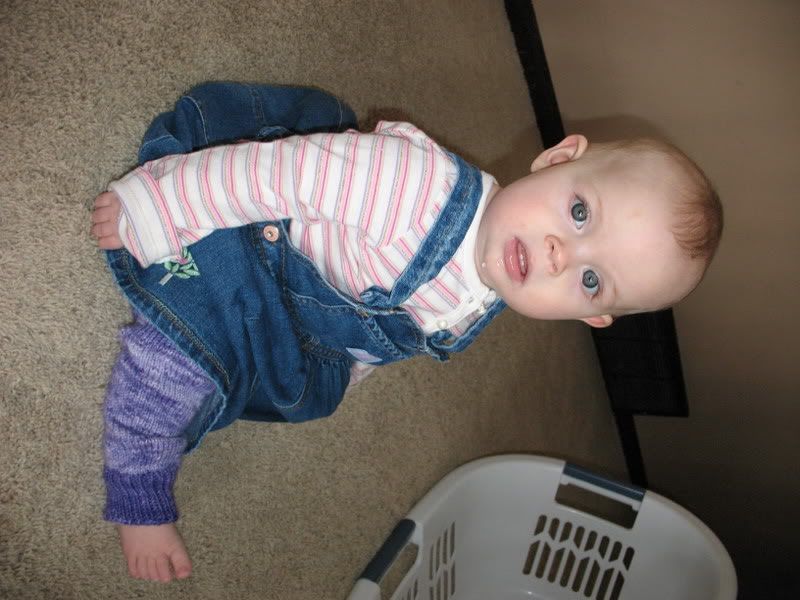 They're a little long, but should be nice this fall. These were made from
Fearless Fibers
Superwash
Merino in the Wildflower colorway and it is FABULOUS!!! I have some set aside for me and I can't wait to knit something for myself out of it. I even have enough left over from the legwarmers to make little miss a pair of socks -- although I am going to wait on those for a while so I can get the sizing right :) Once I finish the
footies
and the
TT
2's, my
WIP
pile is down to 3.
Hee
hee
!!! Of course I already have several new projects waiting to get on the needles... Maybe I'll learn my lesson one of these days.
In minion news, I actually out shopping for clothes (which I absolutely despise) and little man saw the Easter Bunny. I wasn't planning on introducing little man to anything costume related after his episode with Santa Clause last Christmas but he went running to him.
Go figure. He also had a check up with his
Ophthalmologist
and although his eyes are still crossing a tad, he is continuing to alternate between the two so we will go back for another check up in 6 months.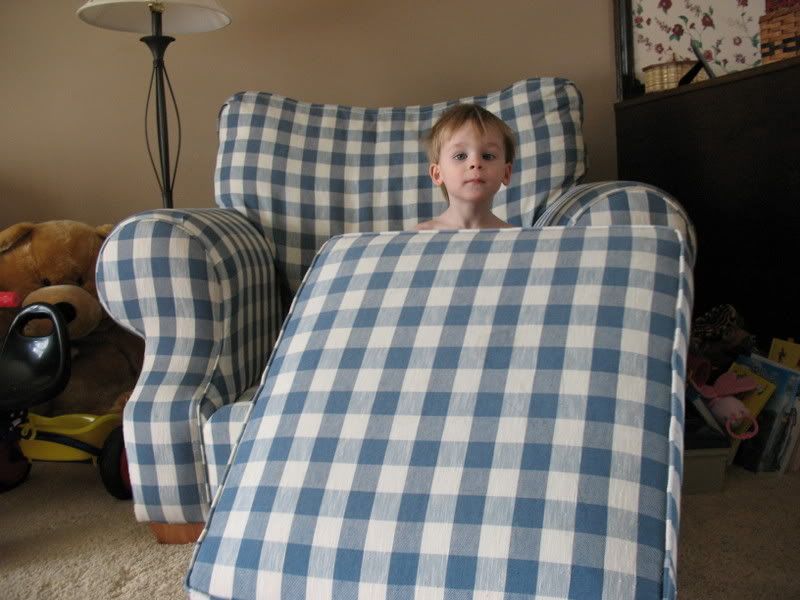 His speech is also progressing nicely and is starting to use multiple-word sentences. Go little man!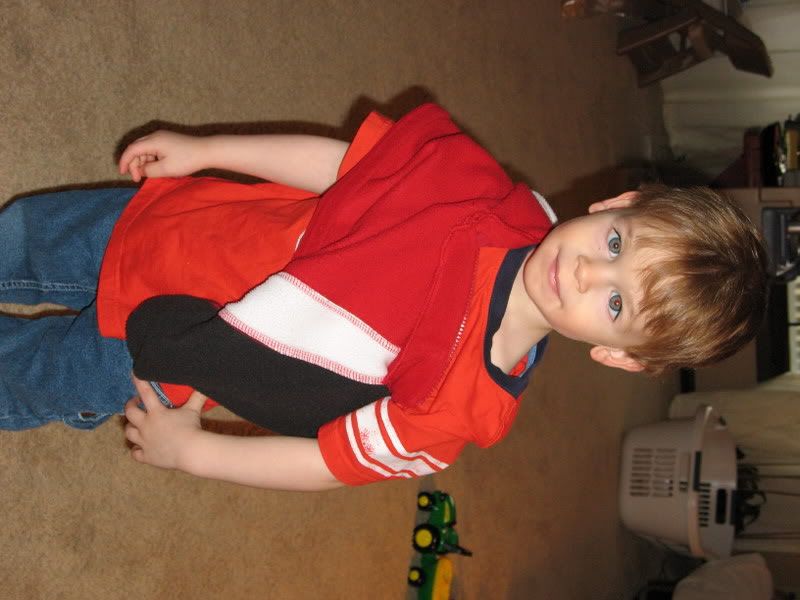 We are still working on the jacket thing evidently.
Little miss is standing up on anything and everything she sees and even manages to balance herself on her own two feet for a second or two. I can't believe she's this close to walking already! We have also entered into the "Ultra gross half chewed Cheerios everywhere but they're so good I can't get enough of them" stage. I think I purposely blocked out the period of time when little man went through this. Those of you with children know exactly what I am talking about :)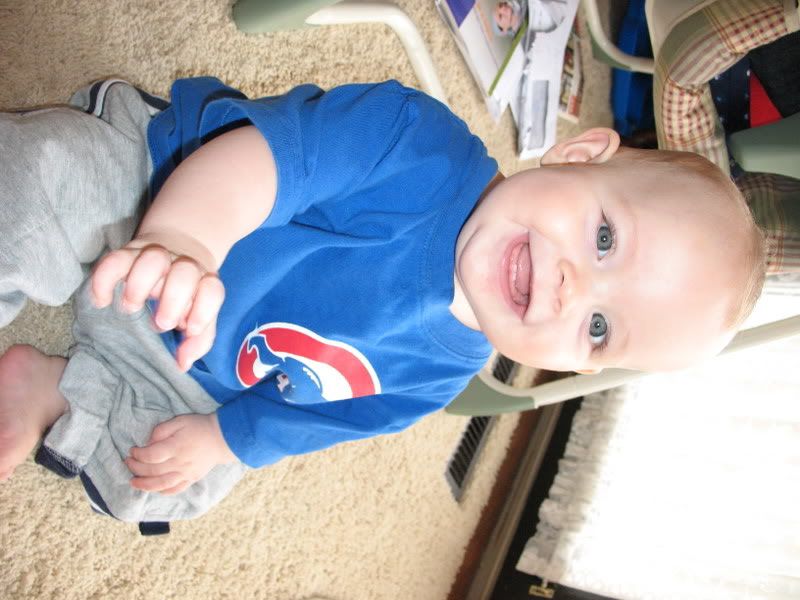 Go
Cubs
! The hubby and the
FIL
are headed to Milwaukee to catch a Cubs game this weekend and he is very excited.
In case you haven't had enough of the minions yet, here's a few more.
Little miss follows her big brother around like a lost puppy. It's nice that they play so well together... most of the time... They're kids though, what do you expect?
I didn't want you to get the idea that she is all smiles all the time!
Deceptively sweet when they're sleeping aren't they? :)