I promised that I would post some shots of actual fiber today so here you go. This is some alpaca from Classic Elite that will be used for the scarf that will be going to the hubby's grandmother. I am still going back and forth between a few patterns so I will let you know when a decision has been made.
Below is a skein of Mountain Colors 4/8 in the Sierra colorway I believe. This will either become a fabulous pair of socks for someone or a smaller shawl. Can't decide. Either way I am happy though as it comes from the stash! Gotta love it.
In other knitting news, I have a few more rows to go on the purple sock and then I can whip up the toe. I am so close but I don't know if I will be able to finish tonight seeing how I have been one constant sniffle since we took little man and little miss to the pumpkin festival. I've never had the pleasure of suffering from allergies and I don't really want to start now -- this is probably the one time in my life that I hope I am coming down with a slight headcold. Little man seemed to have a good time today. Little miss fell asleep in the stroller so we let her be. I'll get some pics of her later. Although it was kind of disappointing since she was actually wearing a girly outfit. I broke down and bought her a couple pairs of pants and 2 shirts that were "girly" -- I have had a few comments about how cute my 'boys' were. Evidently I have been relying on little man's hand-me-downs a little too heavily. Here's a few shots of today. Maybe I will have a completed sock picture to show you tomorrow. Wish me luck!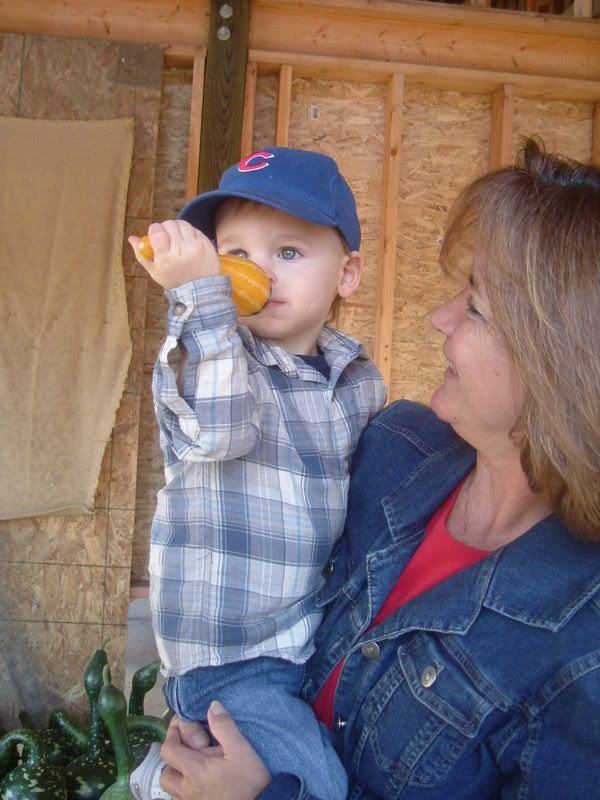 Grandma and little man checking out the gourds
We were loving the corn maze
Not quite sure what he was doing there... They had characters from Peter Pan, The Wizard of Oz, some renaissance-like costumes.... All in all a rather odd festival, but the kids had fun and that's what mattered. The hubby got to feast his eyes on a lumberjack demonstration and I took little man for his first pony ride. All in all a good day.