Uh oh, naked needles can only mean one thing. Yes ladies and gentlemen, we have a finished sock. Hooray!!!!!
I actually finished it last night and sewed her up and everything but at the time I thought that I would wait to take a picture of the sock until tomorrow foolishly thinking that the morning light would be better than the lighting at 10:30 pm. At any rate, one more sock down however many to go. I am kind of nervous about this one though. It fits me fine, and I can stretch it out length-wise to the point that I think it will fit my aunt alright since her foot isn't much bigger than mine, but you never know. This is where the stress of knitting for others comes into play. If it doesn't fit her I'll keep it, make the mate sometime in the future and make a different pair for her lengthening the foot a little bit. I hate ripping things back. Especially after they're finished. I will admit that I don't darn socks either, I'll just make new ones :) Now that the purple sock is completed I will work on the mate to the green sock .
In other news, we got the results of little man's allergy panel this morning. Not only are we allergic to peanuts, we are allergic to milk and eggs too. I know what you are thinking, because I thought the same thing... what the hell did she do to him when he was in utero, and how can be be allergic to milk and eggs -- he drinks milk daily and has eggs 2-3x/week. His peanut allergy is moderate (class II) and his milk/egg allergy is mild (class 1) and is most likely manifesting itself through his skin as Eczema-like dryness... So this sucks. Milk and eggs are in everything. I can't get in to see the Allergist until mid November so I called his Pediatrician back to discuss menu options. Obviously no peanuts/peanut products and although he will most likely outgrow the milk/eggs thing, it is best to stay away from them as it helps children outgrow them more quickly. I will be picking up some soy products when I pick up his EpiPen (because we get to carry one of those too) later today. Speaking of little man, why is it he will walk around wearing swim goggles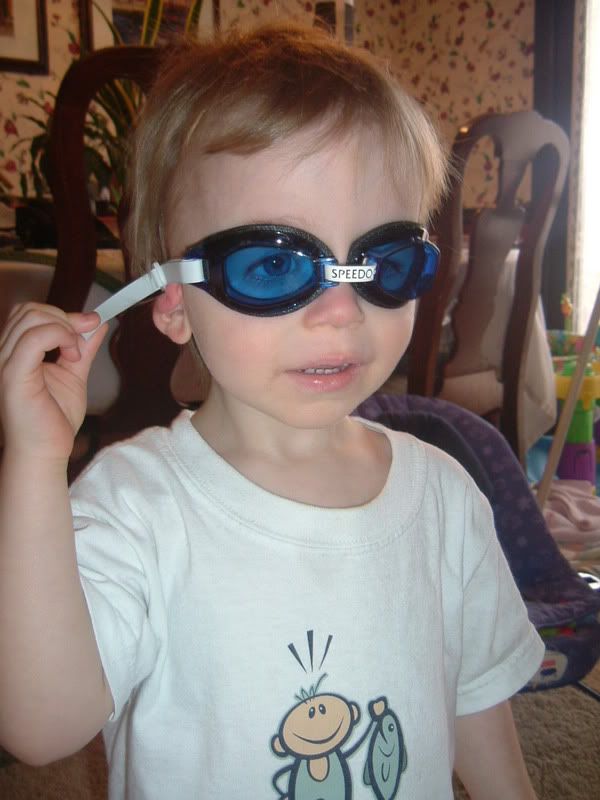 but only his doggie (one of 5 now, although this one is still the favorite) will keep an eye patch on?
I thought I would throw in some pics of little miss. She was very happy that the Bears won yesterday - she is quite the football fan!