It's been a rather slow week for the minions and me. We've all been sharing some sort of little virus so we are up to our eyeballs in tissues. I think we're near the end of it though, which is nice. The temperature outside today was close to 70 degrees Fahrenheit so I was able to open up the windows and get lots of fresh air circulating throughout the house. Today's little warm up also meant that the minions got a little more outdoor time before the really cold weather hits. We can't seem to step outside though and not be bombarded by these little guys.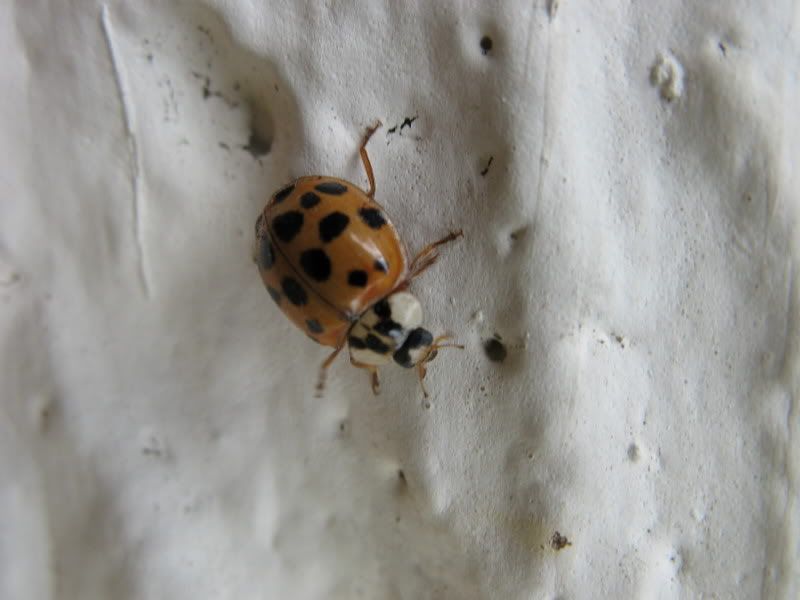 I must say they are rather thoughtful creatures; they appear to be trying to insulate my house from the outside there's so many of them!
Our next door neighbors seized the day as well and put up their Christmas lights and other decorations. Little miss is little enough that she couldn't see them over the hedge but she could hear them talking and moving about.
She was pretty befuddled by the whole thing.
I'm surprised she didn't see them through the hedge though, it's almost see-through with all of the little dead areas.
Little man certainly enjoyed himself this afternoon running all around the yard and the hubby even helped the minions shoot some hoops.
Little miss took a rather lengthy nap today which enabled little man and me to help the hubby rake some leaves.
He started off strong...
After we were done with the leaves and were enjoying a bite to eat inside, the hubby asked little man what he thought Santa Claus should bring him for Christmas this year. His response: "A new leaf pile.". Not quite sure how Santa Claus will pull that one off, we'll have to see I guess.
I am having a difficult time deciding what to make for my Holiday swaps. Do I go with the first images/ideas that pop into my head when I think of the Holidays (which are probably the same ideas that many other people have pop into their heads when they think of the Holidays) or do I stretch myself and go for one of the more unusual ideas that are floating around the 'ol melon. Decisions decisions....
The colors of Autumn are starting to fade, here's a few last glimpses before winter arrives.