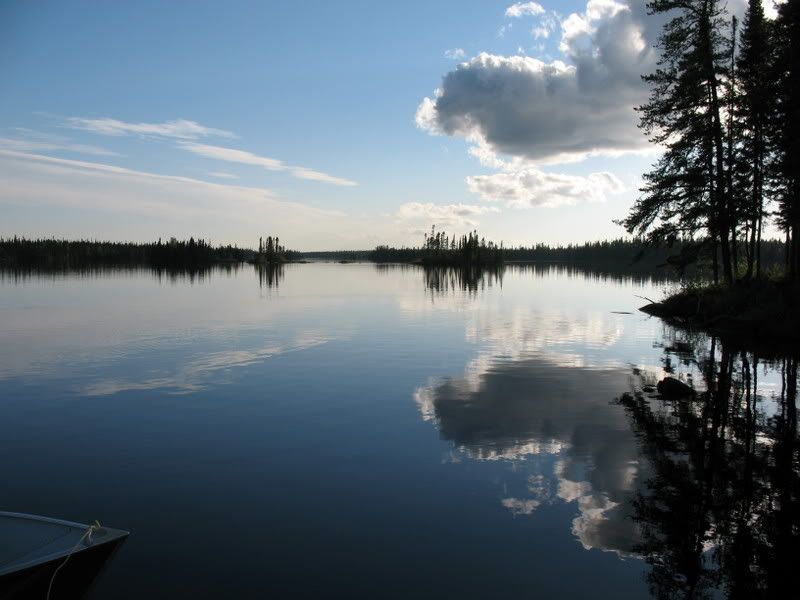 Over Memorial Day weekend the hubby got to go on a fishing trip to Canada. These two photos were taken on the "only partially sunny day" while they were there. Evidently the fishing wasn't quite as good as it was the year before (according to the annual trip takers) but I'm thinking, you're able to go fishing in Canada, how bad could it really be?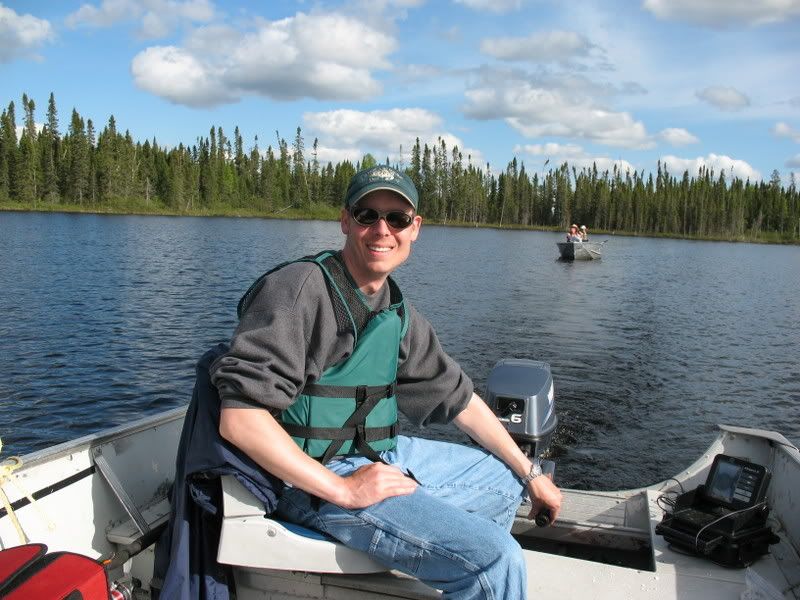 The weekend after he got back into town there was a fiber festival close to where I live so I thought it would be a fun outing for the family, especially when I found out that
Briar Rose Fibers
was going to be one of the vendors. Hee hee.
We make our way through the aisle over to the Briar Rose Fibers section and what do I see but the fabulous
Morning Glory Shawl from Knitspot
. Of course I had to try it on for size, oh be quiet, you would too :) With all of my 5' of fury I came dangerously close to being able to sweep the floor while I walked. So, I only bought Wistful instead of two hoping that it will be enough with a little shortening of the pattern.
Add one Sea Pearl
and one Grandma's Blessing
and you have my haul. The hubby laughed at me and said that I resembled a kid in a candy store. He was probably right. Realistically, I would have liked to have walked away with everything there, but I thought I'd share with other fiber enthusiasts :)
During a little walkabout, we made our way to a shearing demonstration and little miss just smiled when she saw a few sheep in a pen waiting to be sheared. Trust me, poor picture, but they're in there. I think you can see one little eye in the space between the boards.
In other knitting news, it would appear that not only have I been on a lace kick lately, I have also been on a scarf kick. I finished the
Classic Elite Inca Alpaca lace scarf
a while back now, but since I have yet to block it, it still resembles a spaghetti noodle. I'll post a picture when it is all blocked out and looking pretty. Once that was done, I began work on two scarves: a lace scarf for my Grandma K using the
Orchid Lace
pattern from
Knitspot
and
Fearless Fibers
sock yarn in the venerable colorway, and the second scarf a simple double stranded
Classic Elite Blithe
lengthwise garter stitch scarf which has been gifted to my dad.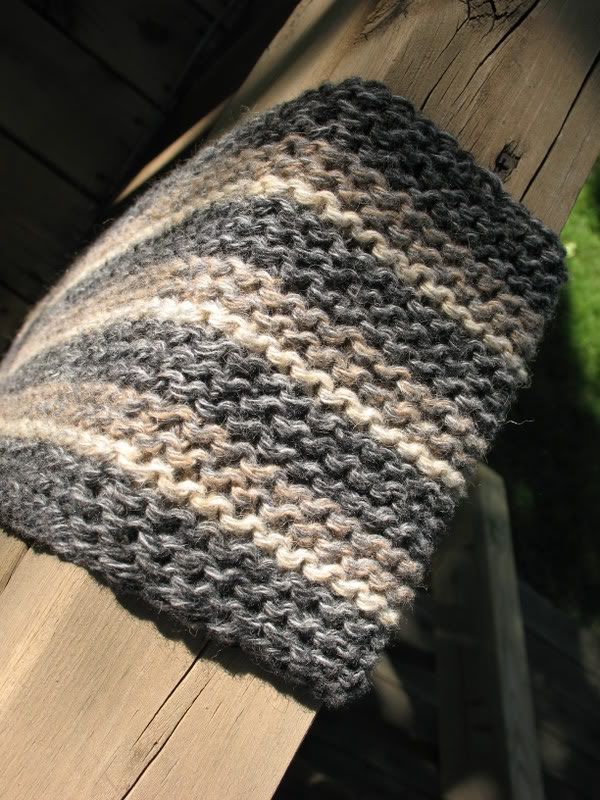 Soooo squooshy! I had a hard time giving this one up :) But it went to a good home, so I'm happy about that. Besides, there's a few leftovers just for me. I wasn't planning on working on this particular scarf until later this year, but I was rather drawn to it -- from the very beginning actually. My favorite yarn store has been closed for a while now and I hadn't ventured out to another one since then. Scarred by my first LYS experience (snooty with a capital 'S'), there I was in the parking lot of the new LYS, feeling like I was the new kid in school. How sad is that? I literally had to take a few deep breaths just because I hate that snooty crap that can be found in way too many LYS! Anyway, that's a rant for another day. I make my way into the store and right off the bat my eyes fall on a rather fabulous looking scarf on one of the front tables. Curious to see what else the store had to offer, I make my way around a
very
poorly lit store (okay, a dark yarn store? what is that all about?) and end up back in front of the scarf. I must make this. Buy the yarn and plan on making it for Christmas. All was going according to plan until little man gives me a little push; he is becoming quite the fiber fiend himself. Every day he spends some time with his 'favorite' skeins and kept bringing me the Blithe saying "so nice, Mommy." So I CO and finished in a day - couldn't keep my fingers off it! Of course it helped that I was using US11's. I also finished the pant portion of the camo baby ensemble although I say 'finished' rather loosely as I still need to add the elastic, but the knitting portion is finished. I am looking for a fun little hat and cardigan pattern. I think I might have found it, but I'll let you know. Of course, there was always a little time in the day for
Katja
.
For little miss' 1st birthday (how is she going to be 1 already????) I thought I would knit her up a little halter. I used
Knit One, Crochet Too 2nd time cotton
in the Beluga Blue colorway. I made the largest size per pattern and it is a tad large for the little lady, but I'm thinking that I am really good at shrinking things unintentionally so maybe I can use my powers to my advantage. Or I could just let her grow into it. The pattern said that it was supposed to take 2 skeins, but as I was about 3 or 4 rows from the end I was close to the end of the first skein and I was just lazy to be quite honest and didn't feel like winding the second skein so I just BO there and I think it will work out just fine :)
To add a little color...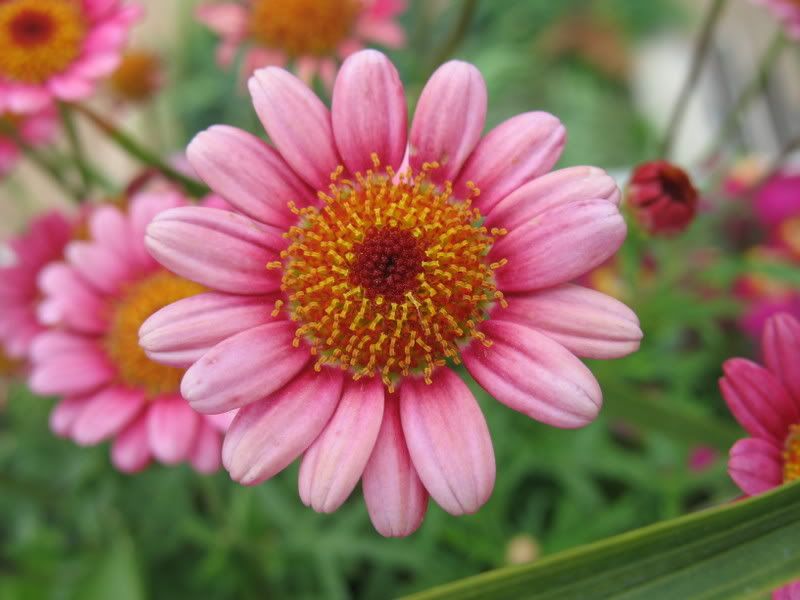 A little tribute to the natural lace knitters out there, though if they know what's good for them, they'll stay out of my house!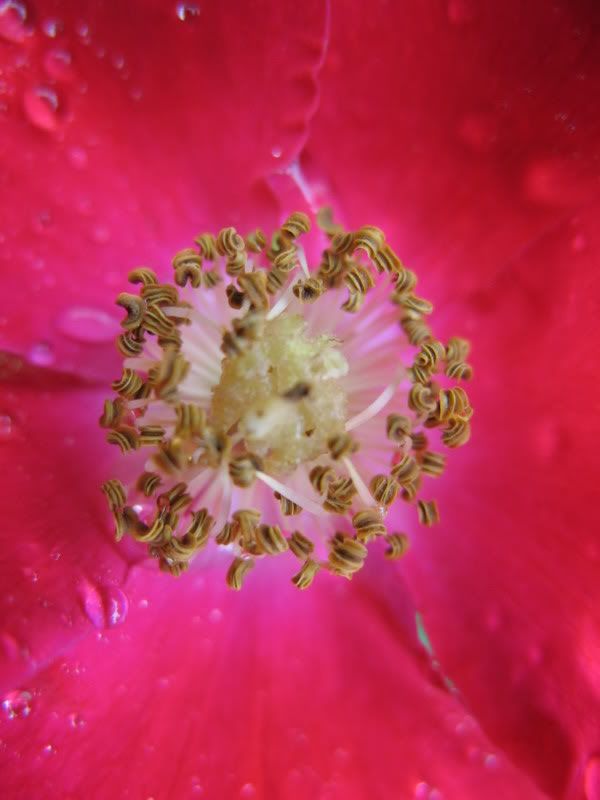 And of course, the minions. This picture was taken by my MIL at the lake. I thought I'd throw it in because I don't usually end up posting many pictures of the two of them together.
Little man has enjoyed several discoveries and/or milestones over the past few weeks. He had his first jump session on my neighbor's trampoline - (the pictures were a little blurry) and seems to have gotten over his aversion to boats and went on a nice boat ride a few weekends ago. He also likes to go down "the big slides all by myself".